EP: Dombarry – Best U Can Give (EP)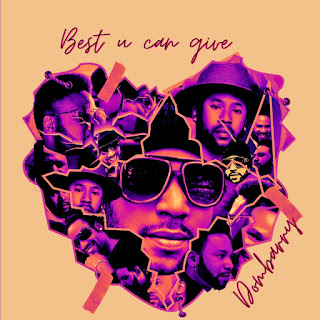 Nigerian-born and raised, New York-based. Dombarry was introduced to music by his late father Dominic Alenkhe a crude oil Engineer who's love for country and pop music helped set the foundation for him. As an adolescent, Dombarry would listen to his father pitch the most beautiful songs in country and pop music genre. His archive was packed with legends like Michael Jackson, Atlantic stars, dolly Parton, Don Williams, Billy Ocean, Cyndy Lauper, Michael Bolton, Tracy Chapman, Lionel Richie and so on. At the age of 16, Dombarry Started recording demos with friend Frank Edward now renowned gospel singer. After he got the attention of A&R in Europe, he released an online album "Not so far away" in 2008 through TuneCore, a digital Music distributor and withdrew several years down the line, The two-leading single of that project gained video rotation multi choice cable channel across Africa
Dombarry has an undeniable strong proficiency in songwriting which will give him a cutting edge in today's music industry, stylish pop vocalist with melodious, catchy hooks and beautiful lyrics you can always relate with. Besides singing Dombarry has also graced NY fashion week as a professional model and as an aspiring international actor he has gained SPEECH/VOICE in acting Training at the prestigious (The Uta Hagen Institute) at HB Studios, haven in futured in few Nollywood movies locally.
Dombarry released Best u can give a single in 2020 to test the waters, Now releasing a full length album with same title , produced by his longtime friend /producer George Nathaniel (Xtraordinaire ) . Best U Can Give is a sensational pop album full of melodic hooks that hits deep, with the versatility of Xtraordinaire production and Dombarry song writing artistry, tells the story of love, hurst and arts! Dombarry is set to make a mark on today's global music world
An undeniable string of hits, mellow lovable vocals with catchy melodies that gets you hooked on first listening, tasty like soul food, sweet like new wine, evergreen like classics of yester year. From Heart to Beautiful, Thousand Years to Stay with Me. Dombarry's song writing prowess is untouchable. Love, regrets, Heartbreaks, the emotions colors through each song with a unique artistry that just makes you want more and more. This album is simply the best…. Best U Can Give
DOWNLOAD "Thousand Years (Original Version)"
Keep In Touch


Join the Discussion
No one has commented yet. Be the first!