Popular Ogbomoso Student Police Bintin, dies on the run while chasing students (Photos)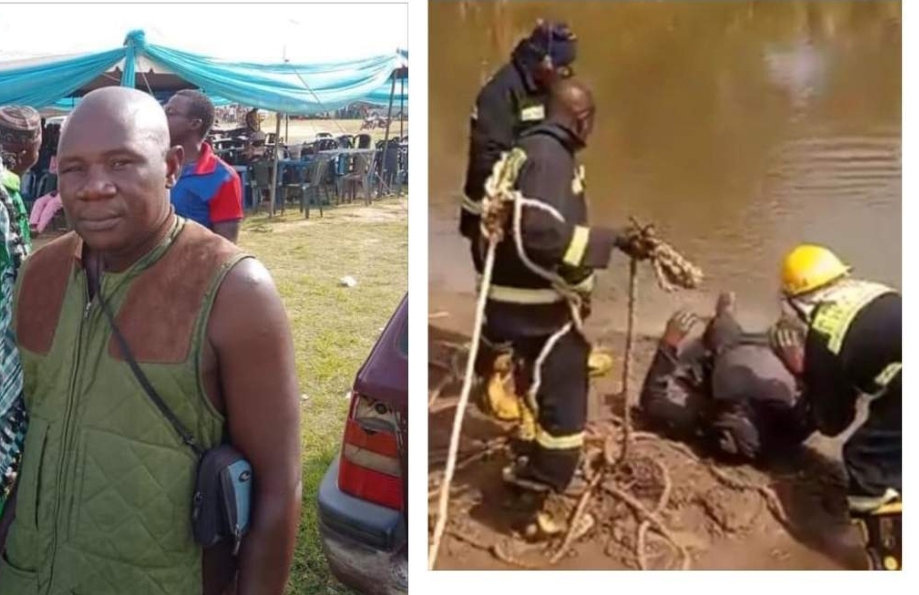 OfofoLoaded Blog  reports that Rotimi Adigun, also known as Bintin and born in Ogbomoso, reportedly lost his life while pursuing secondary school students in Ogbomoso South.
Bintin
The incident allegedly took place on Tuesday morning at Sunsun area, behind the Baptist Beulah Centre of the Ogbomoso Baptist Conference, when he allegedly chased an unidentified student into a river.
Both the unidentified student's and Mr. Bintin's bodies were reportedly found on Tuesday night.
Bintin, the Nigerian Hunter and Forestry Security Services (NHFSS) commander for Ogbomoso South, got drowned after he jumped along with the student he was pursuing into the River.
Bintin's Dead Body in river
It was gathered, however, that after a frantic search and couldn't be found, Osun priests were asked to carry out specific sacrifices in order for the river to throw up the bodies.
The bodies of the two had supposedly been recovered as a result of this propitiation.
An eyewitness who spoke with our joyloaded Media correspondent claimed that his unrelenting "Keep students in school" trips will go down in history.
He said students that disobeyed rules, loitered, and generally caused a nuisance in and around secondary schools in Ogbomoso feared him.
However, a teacher who spoke anonymously revealed that principals and other teachers had his phone numbers since they frequently called him for help apprehending students who started trouble and he always responded with his boys.
"Students shivered at the mention of his name, and he was successful in the task he took upon himself. He will be greatly missed. May God grant his family comfort," he prayed.
Keep In Touch


Join the Discussion
No one has commented yet. Be the first!